Interview: Jeff Mattson of Dark Star Orchestra
Jeff Mattson has been interpreting the music of the Grateful Dead for just about as long it has been a fun and profitable enterprise, beginning with the Volunteers in 1979, continuing with the Zen Tricksters, and peaking with his current role as the lead guitarist in the preeminent Dead tribute act, Dark Star Orchestra. Surrounded by music from an early age thanks to a professional musician father, Mattson found a quick route to rock and roll and the Grateful Dead. He fell in love with the early 1970s Dead releases – American Beauty, Workingman's Dead, Europe '72 – and hit his first shows at the Nassau Coliseum in September 1973. We spoke with Mattson in advance of his Mattson/Barraco & Friends gigs this week. Here is what he had to say about his trip so far.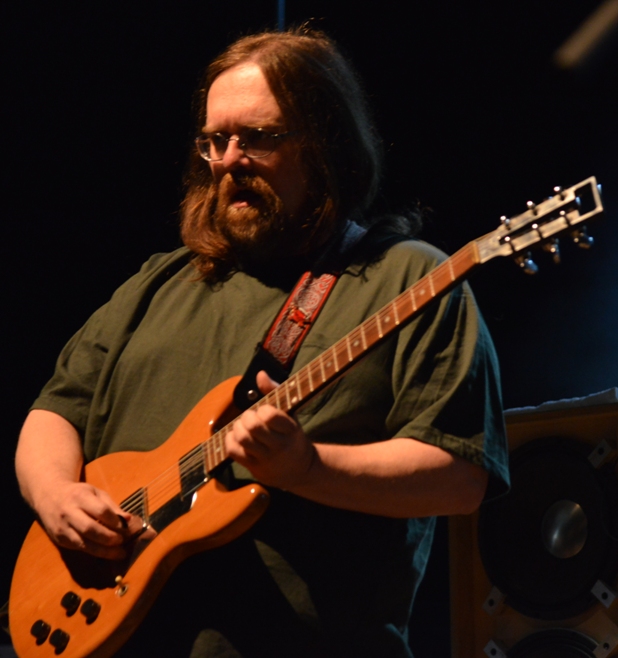 On the Volunteers and the Zen Tricksters:
It's kind of weird when you look back at it. We were a Dead cover band that also played original music. We just thought it was very much in the spirit of what we were about, to write your own songs and jam on those. By the time we got to the Zen Tricksters, we also added jamming on any song we felt like, outside of the Grateful Dead's repertoire. The real draw there for a lot of people was the Dead stuff. It was hard to put a finger on what we did. Are they an original band? We did put out several albums but were also a Dead cover band.
On Dark Star Orchestra:
I knew those guys. Tricksters had done gigs with them and been on the same fests at them. We were friendly with them. Rob Barraco was a member of the Zen Tricksters and went on to play quite a bit with Phil Lesh and Friends and the resurrected Dead. When Scott Larned unfortunately passed away, they called Rob to come in there and help them out and he ended up staying. I was already friends with these guys and now my best buddy and bandmate is in the band and they knew my playing well, so when John Kadlecik was called to go play with Furthur, I was the first person they thought of. I was at a point in my career when I wasn't playing out much, so it seemed like a good time. The band works a lot and it's better than ever right now.
On DSO original set lists:
Me and Rob Eaton, the rhythm guitarist, sit down and, since we do the lion's share of the singing, we'll put together a set list. We take into consideration what we played the last time we were in town, what we played the night before, what we're playing the next couple of nights, songs that haven't really been featured on the tour. There's a lot of factors that go into it. And then the beauty is you get up there and it's just something to start with because we get on stage and if it doesn't feel like the right song for the right moment, we can change it on the fly. But writing it ahead of time seems to help with the standing up there and scratching our head and arguing or just going with the obvious things because you're not thinking of less obvious choices that could be really fun to play, if we haven't played them that much recently, keeps it fresh.
On Mattson/Barraco & Friends:
We love playing together. We've played together so long. A lot of the members of the band have their own little gigs on the side that they do when they go home. We did a couple of shows with Rob on bass. He's a really excellent bass player and he doesn't get to play it ever, so it's particularly fun for him to play a different instrument than keys. We did a few shows with Joe Chirco on drums and Jason Crosby on keys and we also did a couple where we played acoustically, me acoustic guitar and Rob on bass, as a duo and it was just a lot of fun. Since we do play a lot of Grateful Dead with Dark Star, we do play some Dead in this format, but we stretch out a lot more on a lot of other different stuff, very much in the vein of the Dead jamming, but we just don't have to stick to that repertoire. We can take a Dylan song or a Donavan song or something like that, Beatles, Stones, whatever, just stretch it out, take it to all kinds of new places. We just started doing this, so we want to go to the songs that we know and have played and loved over the years. We know hundreds of songs, so we've been pulling from that. The other stuff we do, for example, a typical audience would probably be surprised we do "Black Star" by Radiohead and all that left field from what we usually do. But why not? "Dark Star" into "Black Star." I was just thinking today, we're both big fans of Tom Waits and Warren Zevon. How am I going to get some Zevon songs in there and some Tom Waits songs in there? That kind of thought process.
On new music:
I listen to all kinds of music. I have quite eclectic tastes. I'm not one of these guys who's perpetually on to the next big thing. I like what I like. I just sort of find out what I like. I love Wilco and I love Iron & Wine and Calexico, which I guess I would consider modern bands. Just off the top of my head. I'm not up on all the new bands, but I'm always checking stuff out. I read a lot of music magazines. I know what's going on and I check the stuff out on iTunes and YouTube all the time. I watch a lot of late night TV, so I'll see the bands on Letterman and Jimmy Kimmel and Jimmy Fallon, all those shows. It's pretty varied. That's a cool thing. I don't like it all, but it's a good way to find out things you do like.
On favorite venues:
I like the Crystal Ballroom in Portland, Oregon. It's an old ballroom and the dance floor is loaded on springs and ball bearings. It's an old school place. The Fillmore in San Francisco has just got a great vibe to it. Actually, we've played there just a few times, but The Paramount out on Long Island is a really nice place to play. We really enjoy playing there. We're doing New Year's and the night before there again with Dark Star. It used to be called the IMAC, the Inter-Media Art Center. If you had ever been there, forget it. It's nothing like it. They completely gutted the building. I also was there not too long ago to see Emmy Lou Harris and Richard Thompson. I'd like to play Madison Square Garden [laughs]. It's kind of an iconic venue. You know you've made it when you play there. It's the pinnacle, especially growing up in New York.
Jeff Mattson will be performing with Rob Barraco and Tom Barraco at Brooklyn Bowl Tuesday and MexiCali Live in Teaneck, NJ Thursday.
For upcoming Dark Star Orchestra tour dates, CLICK HERE.
Related Posts
When the lead guitarist of your tribute band is tabbed for a new project with members of the band to which you are paying tribute, it's a pretty good indication ...
READ MORE
Dark Star Orchestra, the preeminent interpreters and duplicators of the Grateful Dead experience, brought their finely tuned jam machine to the always friendly confines of Brooklyn Bowl. Performing an original ...
READ MORE