Gibbz and The Lowtemp Crew Bring The Future Soul To When In Robe.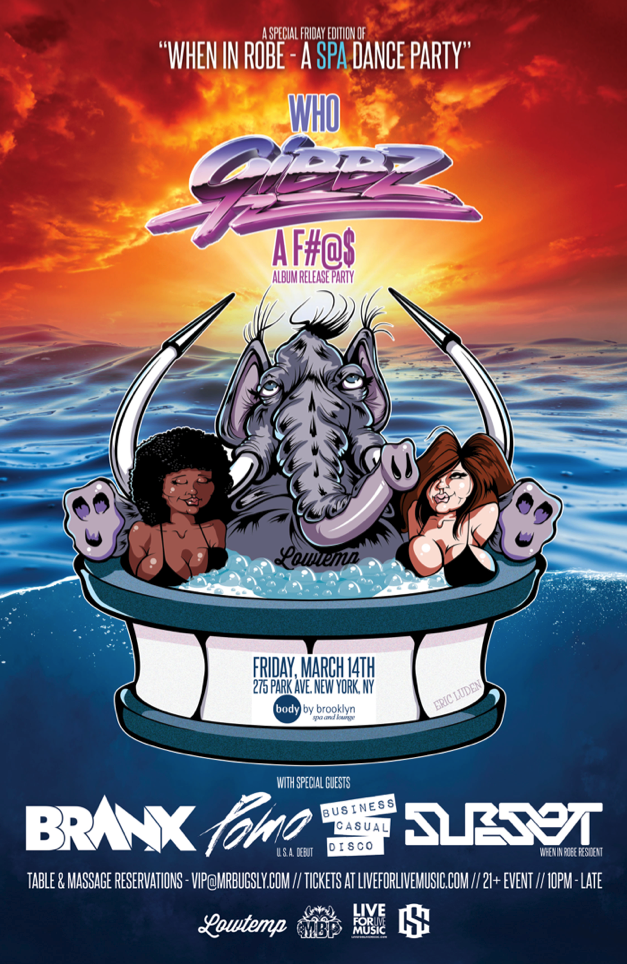 If you haven't already heard, When In Robe is the newest social phenomenon to hit New York City. This unique biweekly party has quickly established itself as the must attend event on these frigid winter weekends. The new party series has already pulled some fantastic talent like Plastic Plates, Party Supplies and Buku to headline the first few events, and this Friday Lowtemp newcomer Gibbz will be hosting his intimate album release party with the #SPAFAM. Gibbz, born Mike Gibney, just released his new EP Who Gibbz A F#@$ and we cannot wait for him to bring all of that funky goodness to Body By Brooklyn. Who Gibbz a F#@$ is a sultry and expertly produced four track EP that showcases Gibney's  silky, smooth vocals and soulfully retro beats. In his new release, the Berklee School of Music alumnus flows effortlessly through disco, synth pop and R&B, letting his raw talent and versatility shine through. Gibney's infectious vocal confidence and musical sophistication gives this EP a luxurious feel to it. Who Gibbz A F#@$ is currently available for purchase on Beatport and iTunes, and in true Lowtemp fashion the EP is also available for free download on Soundcloud. This record will have you dreaming of the warm days of Summer, as it leads  you on a sensual, synth-filled journey of future soul.
After seeing Gibbz throw down an amazing funk filled set during the Lowtemp Showcase that had Output NYC absolutely rocking, I know his performance this Friday will be unforgettable. Friday's special edition of When In Robe will feature a bunch of awesome supporting acts to set the mood including rising star Pomo ,who will be flying in from Montreal to make his USA debut, Branx, Business Casual Disco and of course the spa's resident DJ Subset. The Lowtemp crew will definitely have a few tricks up their sleeve to make this party the best When In Robe to date. Tickets for this event will definitely sell out so get your tickets while you can here.