Why China's Homeowners Want to Live In Fake Paris (HuffPo)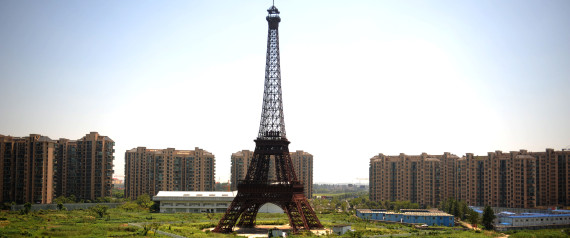 China has embarked on a country-wide "duplitecture" binge — constructing massive communities that replicate the cities of Europe and the United States — and I'd gone traveling through the country to understand why so many Chinese families, like the little boy's, had moved into picture-perfect recreations of Amsterdam, Paris, Orange County, Manhattan and even the White House.
Outsiders tend to dismiss these theme-towns as tacky architectural abominations, but for the Chinese homeowners living there, they are like portals to an upgraded lifestyle. These homes are at once isolated havens, enviable status symbols and places to enjoy Western comforts without living abroad.
My flashcard session with the discerning little boy was emblematic of a broader Chinese appetite for absorbing the tastes of the global elite — an appetite that helps explain the popularity of China's theme-towns (though many have also remained empty ghost towns).
In some sense, the newly affluent class of Chinese are doing what moneyed people everywhere are wont to do: snap up trophies from far-off places as proof of their sophistication and worldliness. In the American city of Houston, for example, wealthy Texans have constructed a conglomeration of fake Tuscan villas, Versailles-inspired mansions and oversized Tudor manors in the River Oaks neighborhood.
At the same time, this duplitecture has grown out of a remarkable inflection point in China's history, brought about by monumental economic and political reform. The previously closed-off country has opened up, exposing its people to a much greater array of tastes and granting them a new freedom to select any residential fantasy they can afford. A generation ago, families had to accept homes designed and assigned by the state. In the modern Chinese context, choice is a luxury, and one that the Chinese are embracing.
"The way to live best is to eat Chinese food, drive an American car and live in a British house," one homeowner told me, repeating a motto I heard on numerous occasions during my research in China. "That's the ideal life."
Even in the wake of Mao's brand of communism, which demonized landholders, China has once again embraced the mindset that property equals prestige. The home has become one of the most important elements defining status and class.
A resident of Galaxy Dante in Shenzhen said she prizes her Western-style home because it shows that she and her husband "have a social identity at the upper level."
"When I mention that I live here, people notice," she added. "They're impressed. That's definitely part of the appeal: It shows status."
Developers have stepped in to offer homes that they promise will convey this status. Compounds with names like Top Aristocrat, Majesty Manor and Eton Town relentlessly stress the link between "foreign" and "luxurious." Coming into contact with the architectural scenery of British-style Thames Town, one sales brochure claims, leads you into "the territory of the aristocracy, and a world of prestige." Paris-themed Tianducheng reminds buyers that the "European-style living space" that its homes offer is "one of the necessities of aristocratic life."