Catskill Chill Closes Out the Summer in Style
It's hard to believe that the Catskill Chill was only one week ago, when so many are still feeling the residual warmth and love from Camp Minglewood. With all the so-called failstivals this summer, it's nice to see that at least one is pretty much on point, weathering storms both literal and figurative, to provide attendees with a very special kind of experience that provides fodder for inside jokes and fond memories for the cold months ahead, those days between when we're relegated to music indoors and precious little of the hilarious weirdness that a proper festival offers. The 3rd annual Catskill Chill was, by most accounts, a rollicking success. Ask one hundred attendees to name a highlight and you'll likely receive as many answers. From the scenic lake views to the late night cabin jams, from Club Chill to Acoustic Junction, the Chill offered a different highlight for everyone, with a line up so stacked we could do it all again and still not see the same thing twice.
Friday
Arriving late Friday afternoon, we were immediately greeted by ShwizZ members in the parking lot and, after hitching a golf cart ride, I found one friend manning the Lot A gate. One more golf cart ride later, I was at the check in with yet another friend who drove me back. Are you seeing a theme here? Friendly faces could be found around every corner with many more to be made. It was going to be that kind of festival. Cruising down the hill with our bracelets, a friend of a friend at the gate presented us a small turtle in a Gatorade bottle, origins unknown. Pleasant surprises of this variety would be another theme of the Chill, indicative of the intangible magic engendered by the Catskills paired with excellent music and people.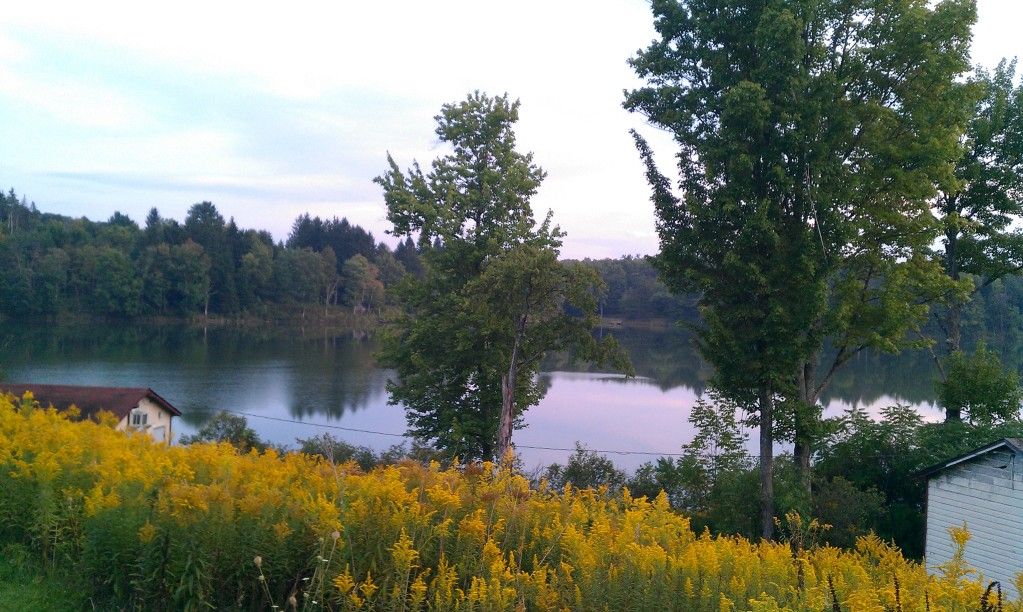 Speaking of people, we managed to bring back our entire Catskill Chill crew from last year and then some. Last year, we stayed off-site, but soon realized that the cabins are half the Chill and this year we knew we needed our own. Perhaps you stumbled upon Fluffhead cabin, just behind One Boofington Lane. Emblematic of the creativity pervading Chillers, each cabin brings its own unique vibe and comes with its own set of characters. If yours was anything like ours, you all became summer sisters this weekend, and a lucky few became Eskimo brothers, an entire season's worth of indelible experiences neatly tucked into one glorious weekend affair.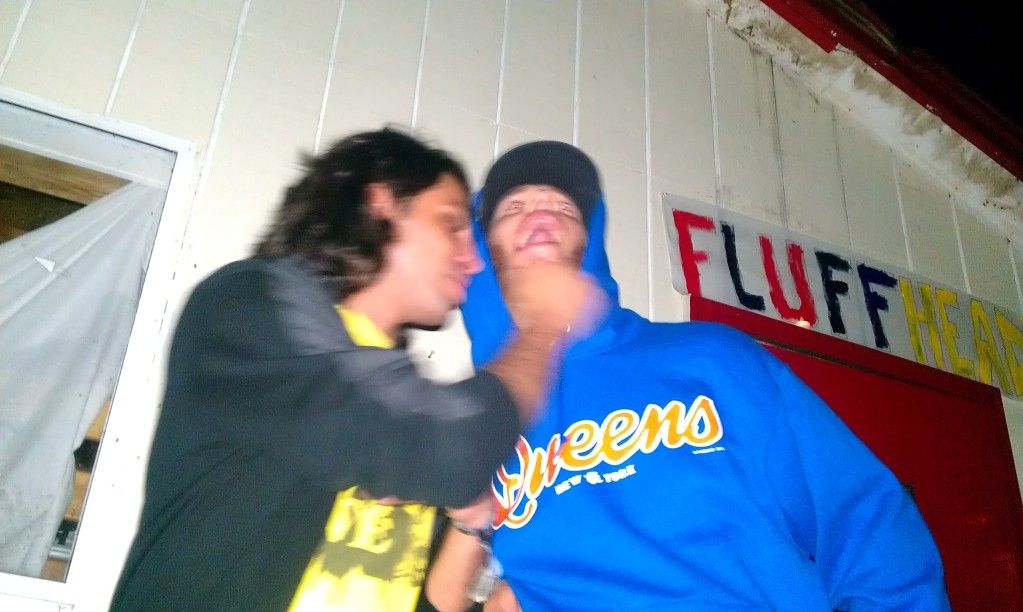 There was music too. After settling in, we made our way over the hills and past the lake to the main stage where Melvin Seals and the JGB were midway through a set that started with the reggae anthem "The Harder They Come."  When in doubt, play Dead, I like to say and the band closed with deftly maneuvered jam through the staple "Deal," which debuted back in 1971 at the just-reopened Capitol Theater just a bit downstate. Subsequently, over at B Stage, the robotical methodical DrFameus (a.k.a. Allen Aucoin of the Disco Biscuits) laid down the freshest beats this side of the Hudson, which paired perfectly with an impromptu foot bag session with a veritable pro of the game. Every kick and snare seemingly cut shreds of our fate, which soon led us to Caravan of Thieves at the Acoustic Junction, where even the planned sets felt impromptu. Bubbles floated by as the set closed with an appropriate "Shakedown Street."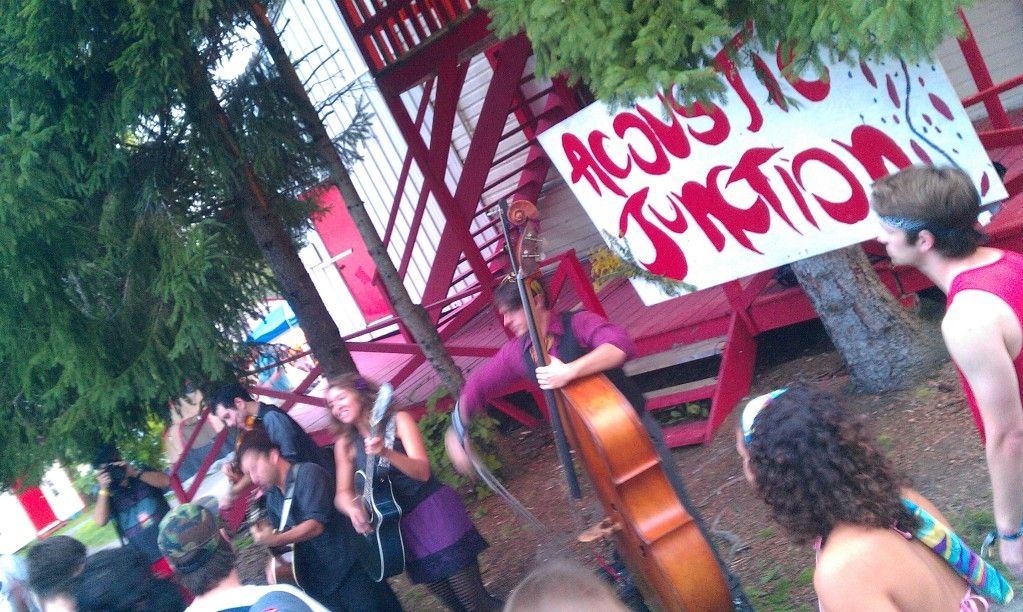 All too quickly, day bled into night and a mass conspiracy developed on the Main Stage. Conspirator has been coalescing to varying degrees of success over the course of their increasing familiarity with one another and they have progressed leaps and bounds since their similarly slotted set just last year. Their pitch perfect take on today's complextrostep may not be your cup of tea, but there is no denying Conspirator's ability to move the dance floor. Harkening back to last year's heavily teased "China Cat Sunflower," more Dead was in store with "Scarlet Begonias."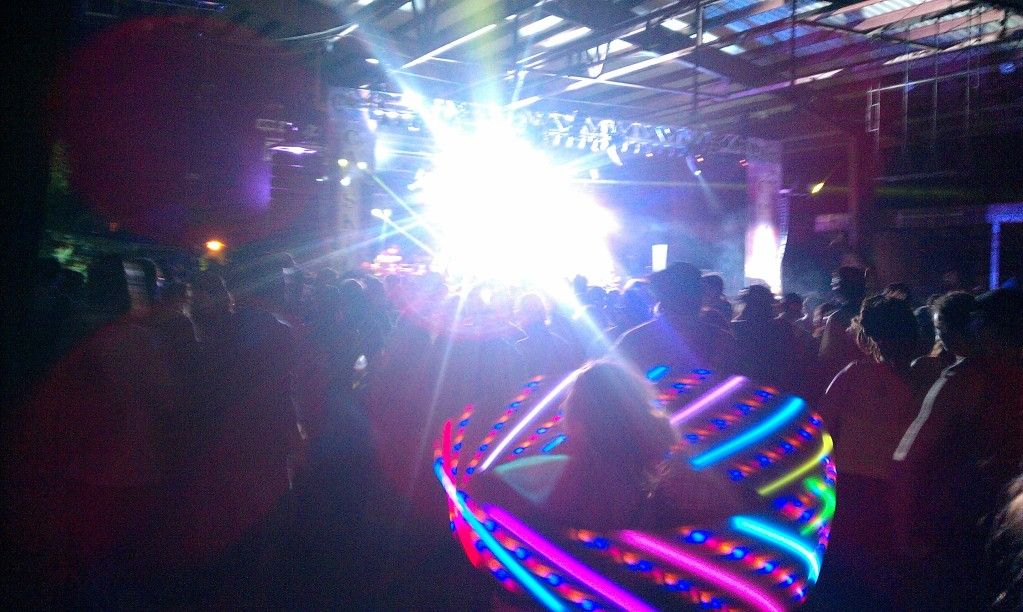 Following a brief Kung Fu lesson at the B Stage, we headed back on down for some crisp Lettuce, only one of the funkiest outfits in the western hemisphere. All weekend long, the performers seemed to feed off the rabidly optimistic audience and Lettuce reflected those vibes right back over the crowd with a heavy hitting set of unadulterated funk, augmented by the swanky smooth soul of Royal Family uncle Nigel Hall. Sadly, a stop back at the cabin to recharge turned into the end of our night, a success even sans the tasty funky electronic late night slate of EOTO, Dopapod, Wyllys and Jeff Bujak, not to mention the late late shows at the ShwiKus cabin.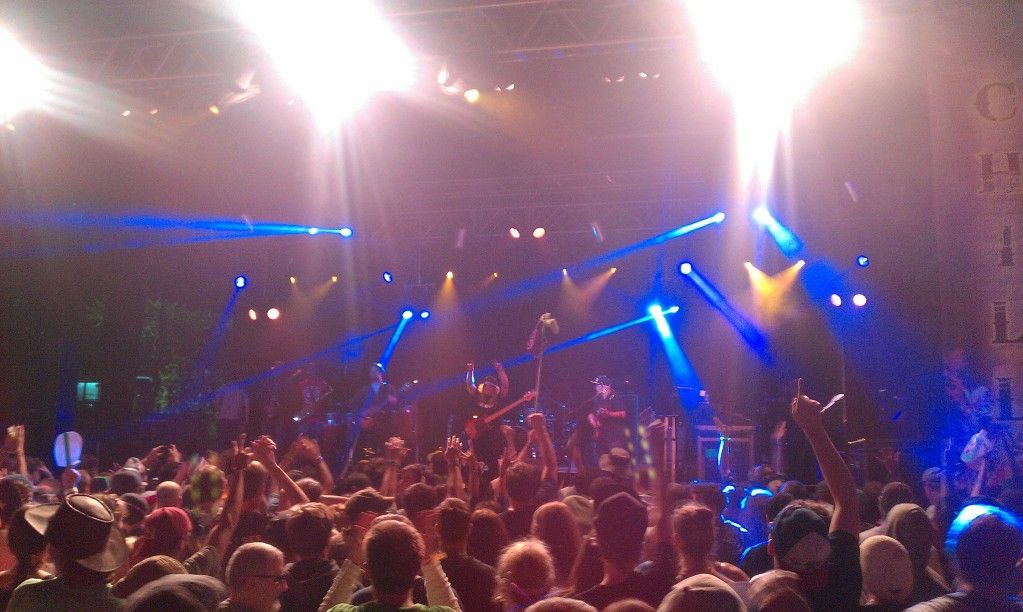 Saturday
Early to bed and early to rise, we enjoyed a quiet morning of cheese feasts and lakeside otter watching before the weather warning rumors began to circulate. To the credit of the organizers, the communications regarding the impending storm were spread throughout the camp in an impeccably orderly fashion. Ice ran out sporadically throughout the weekend and shuttle service could have been more frequent, but in matters of safety and communication, arguably the utmost elements of festival success, the Catskill Chill went above and beyond the call of duty.
Long before the rains came, however, the mystical metal funk excursion trio Consider the Source kicked off the day with a sunny afternoon set laden with guests from Shwizz, Fikus and Kung Fu. I don't toss around the term Claypool-esque often, but that is the best way to describe their bassist, and he may not even be the most talented of the virtuosic group. That honor would probably go to their flaxen haired fretless double neck guitar slinger. The crowd was loose and ecstatic and the jams were free flowing and melodic.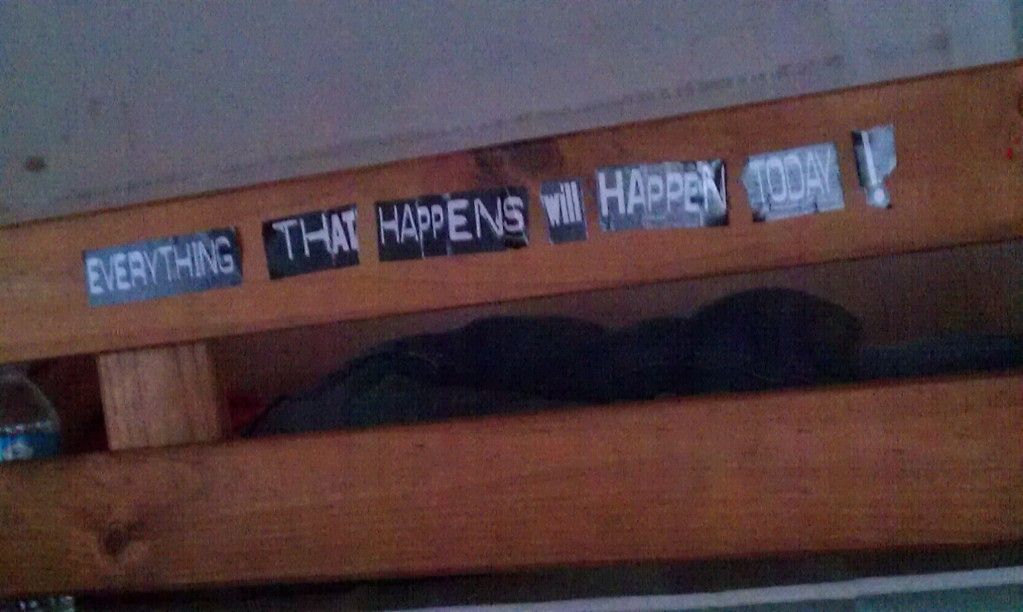 A couple of songs into The Alchemystics' reggae-tinged set at the B Stage, we were told to evacuate the stage areas. The storm never materialized as forecast, though there were certainly torrential downpours, if not 75 MPH winds. We battened down the hatches of our cabin for a bit, while our kindergarten teacher friend entertained us with rainy day sticker fun. Just a couple hours and not much more raindrops later, the festival was back in full swing. The schedule got all shook up, but not much music was lost.
Club Chill was curiously not used last year, perhaps due to the relatively minimal open dance space of the orchestra pit. The multilevel confines of the small theater, dark no matter what time of day, proved the perfect backdrop for psychedelic projections on screens of all shapes and sizes. After an early morning reconnaissance mission of the premises we finally saw some music and lights with the talented lespecial, who get extra credit for covering Primus. After a small dose of rising stars The Indobox, we headed back to the Club where ShwizZ was locked in a tightly woven funky proggy shredfest, proving equally adept at rocking a main stage as orchestrating epic cabin jam sessions along with their FiKus cohorts.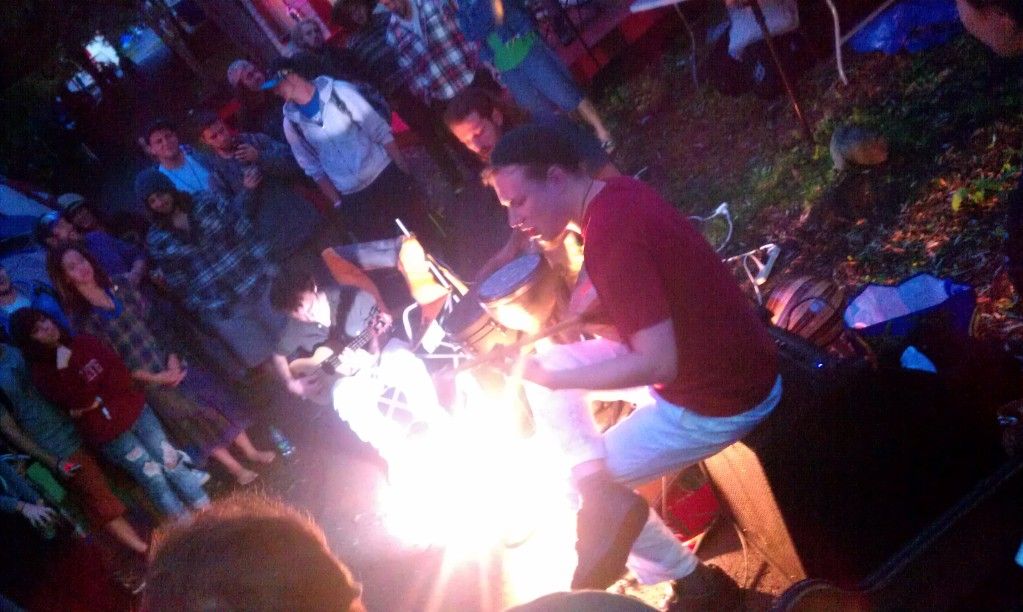 As the sun slowly set over slowly chilling grounds, Consider the Source played a beautiful mostly acoustic improv set under a weeping willow. Following a beer and soda run to the furthest parking lot in the back of beat up shuttle van, and some other blurry adventures, time slipping into the future as it is wont to do, we came upon SOLARiS in the midst of a five hour porch set. Pretty standard fare, really.
Finally, it was over to the Main Stage for Soulive, another strong set in the seemingly endless highlight reel of the Catskill Chill. The trio joined forces with the Shady Horns for a healthy helping of Soul-ified classics. Hendrix and Beatles and James Brown, oh my! Particle closed out the stage with a solid rager of a jamtronic set wrapped around an especially meaty "Have a Cigar."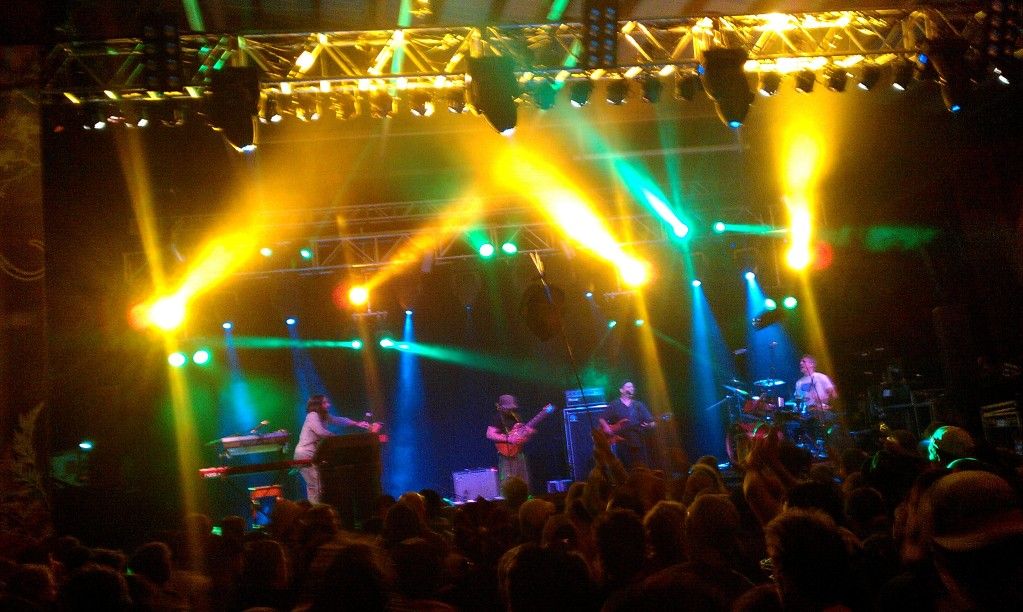 Sunday
At some point along the way, taking a page out of the Gonzo journalism handbook, I adopted the alter ego of Dr. Crotchworthy (who narrowly beat out Commander Toad) and infiltrated the corporate button-down world of the Sunday festival campground. First order of business after missing Timbre Coup, yet another band on my to-see list, was catching The Folkadelics, one of three bands at the Chill to have played in my very own backyard. They clearly got the memo about sticking to thew classics, as their set featured a severely swinging cover of Johnny Cash's "Folsom Prison Blues."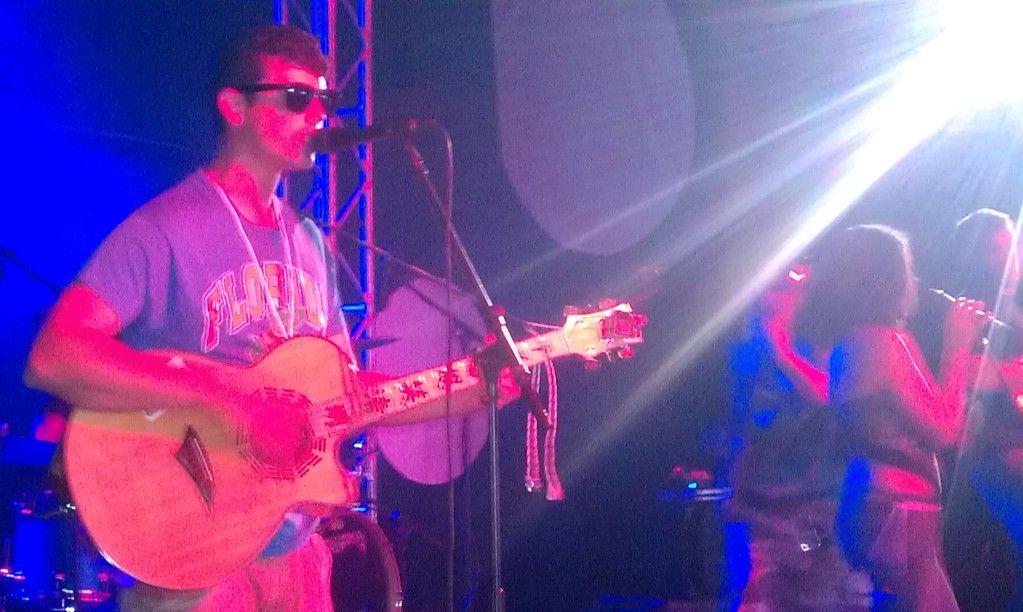 There could easily be a solid line up comprised of all the bands missed, but try as one might one can never catch it all. Festival adventures pull in all directions and friends often take precedence over even the most anticipated of acts. The biggest regret is the Yarn Plays Dead set, where the "Brokedown Palace" reportedly brought several to tears. Hopefully, Yarn will bring the Dead to their Brooklyn stomping grounds in the near future. Lotus' egalitarian brand of rocktronica was pleasant as always, but it was no consolation. A vacant hammock under the bleachers provided a quiet respite and a stellar view of the breathtaking starscape.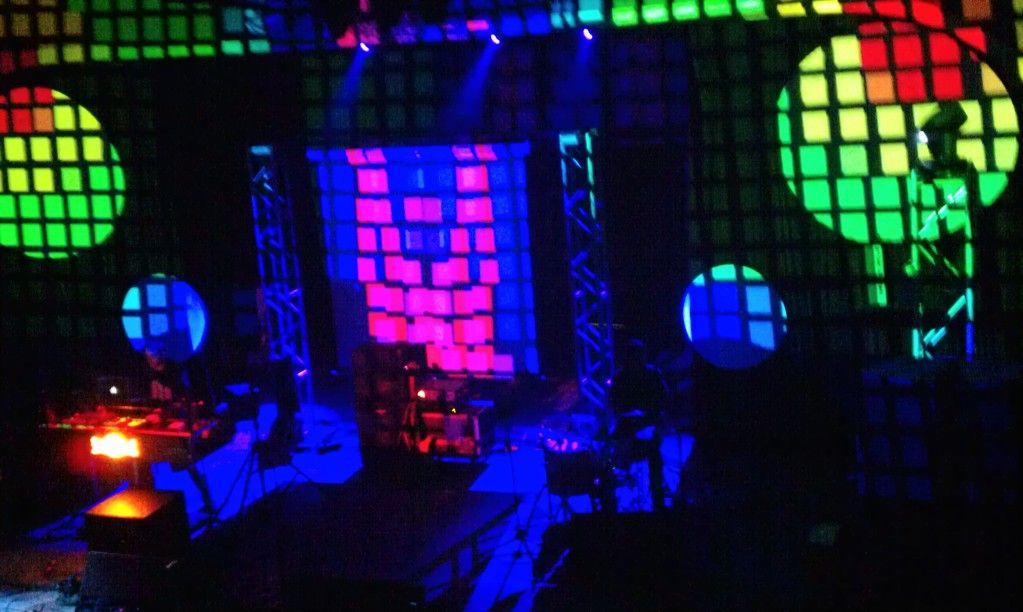 Horizon Wireless melded samples and live instrumentation in Club Chill as Drew Suto bathed the audience in psychedelic shapes and colors from above. Stepping up a stairway, we were whisked to the rafters and watched the colorful crowd bubbling below in heavenly bliss. Spirits rode high into the penultimate official set of the weekend, the second ever by the rapidly rising super group quartet Kick Rocks and they did not disappoint, keeping both intricate jams and amusing banter at appropriate levels.
When the music's over, turn out the lights and turn up the weirdness. Ever the merry pranksters, we did some antiquing (and became antiques). There was a 3-on-3 football game under the stars refereed by a man in a cape; the score was 0-0 and there were no completions or yards gained. Well past dawn, we anchored an acoustic sing-along, replacing words in Phish songs with a portmanteau that is at least half unprintable. A good portion of the festival was polled on their favorite dinosaurs. Free high fives were doled out to passerby for breakfast. We solicited hula hoop jumper cables. You know, old hat.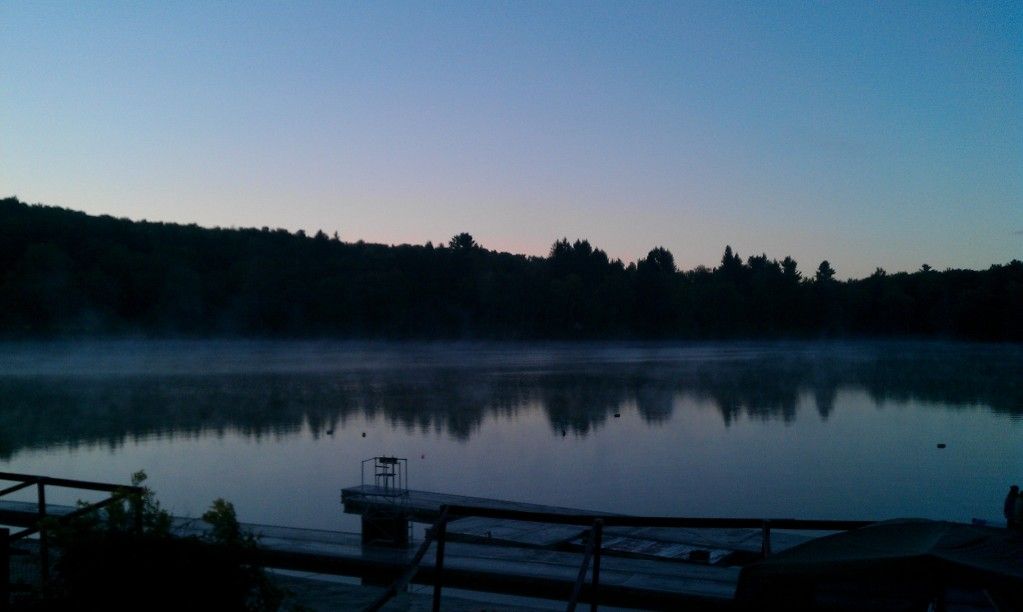 Monday
Then, all too soon, it was time to grab a ride back home to reality from our friends and neighbors. In a final display of the festival's top notch hospitality, our possibly concussed fellow traveler was attended to quickly and we were soon on our merry way, peppering the drive talk with comedic tales of the bygone weekend and all dead set on returning to Hancock, NY in 2013.
A Comedic Anecdote
To conclude, a brief anecdote. As I helped one festival attendee transport her things back to her car on Saturday, I wondered why she might be leaving so early. Her response was at once stereotypical and humorous, though delivered with sincerity. Her boyfriend you see, "hates corporations." Clearly, this festival is just too corporate. Chill, but corporate nonetheless. Those considering attending next year be warned. And keep off the grass, will you? We are trying to have a society here. You guys…are some dirty bitches. See you next year.