BangOn! NYC Does It Again With Stellar Elements Lakewood 2020 Lineup
BangOn! NYC never fails to assert itself as an immensely influential force in dance music culture. There is no denying that this New York-based collective has pushed the boundaries and broken the mold in terms of what music lovers can see, hear, feel and experience. BangOn!'s seminal events have helped define the greatest decade of growth in the history of electronic music and the mad geniuses are ready to continue their good form into 2020. Elements Lakewood has become the complete embodiment of the BangOn! ethos.
For its fourth consecutive year, the Elements Lakewood Music & Arts Festival will invade 150 acres of picturesque Pennsylvanian land this Memorial Day Weekend, May 22 – 25th, 2020. 2020 undoubtedly marks the most star-studded Elements lineup to date with heavyweights like Bonobo, Four Tet, TOKiMONSTA, Chris Lake, Gramatik, Claude VonStroke all making their way to his one-of-a-kind sleepaway camp experience.
Truly a world of its own, Elements Lakewood is compromised of an incredible array of stages, art installations and immersive spaces that transport all camp goers to a waking dream of possibilities. Every nook and cranny of this lush landscape is transformed into something thrilling to captivate the mind, body, and soul. Four stages named and designed in homage to the four natural elements, EARTH, WATER, FIRE, and AIR, act as the tentpoles of this fantasy dimension. Although life seems to congregate and spin around these orbs of light and sound the totality of Elements Lakewood stretches far beyond the four main stages. An event that truly must be experienced to be understood, Elements is steadily becoming one of the most lauded and well-respected music gatherings in North America.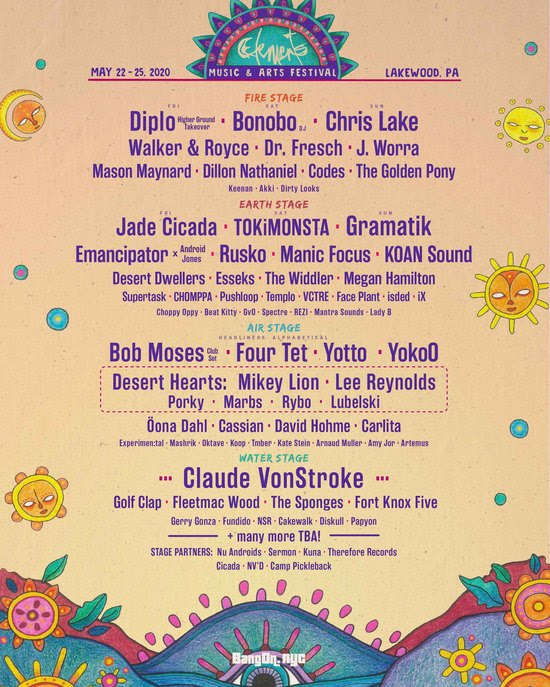 Brought to life by the Brooklyn independent production company known for their legendary BangOn!NYC art and music gatherings, this year's multi-day "sleepaway" celebration will see scene heavyweights like Bonobo, Four Tet, TOKiMONSTA, Chris Lake, Gramatik, Claude VonStroke and over 100 more artists bringing unmatched energy to a summer camp set upon 150 acres of picturesque Pennsylvanian land, approximately 2 hours outside NYC.