Bang On! NYC Presents: Warehouse Of Horrors – A Halloween Bash
Now that the sweltering days of summer are behind us, it's time to welcome in Autumn with open arms. In my opinion, fall is one of the most underrated seasons. While the summer festival adventures may be coming to a close, fall is full of exciting reasons to get down and crazy.

Obviously, as one of the most social holidays of the year, Halloween is always a hot topic in the Big Apple. This year, you need to find your way to Bang On! NYC's 7th annual Warehouse of Horrors. This October 29th, all the fabulous freaks and weirdos of New York City will be crawling out of the woodwork to take over a decked-out warehouse on the border of Williamsburg and Bushwick. With an unquestioned track record of dope parties, Bang On! NYC is one of the premier names in Big Apple nightlife.
Any resident of New York City worth their salt in the rave scene is well aware of Bang On! NYC's party throwing reputation. Every summer, Bang On's Elements Festival is always an unforgettable summer highlight, and the Warehouse of Horrors is no different. For their 7th annual Halloween-themed event, Bang On will be transforming an industrial Williamsburg Warehouse into an unholy den of mischief, mayhem and misbehavior.
Featuring two stages, a silent disco, freaky performers, hair-raising interactive art, mutant vehicles, delicious food vendors, a bouncy house, a flesh-suspension zip line show, a haunted house & portals into a new dimension inspired by classic horror films, abundant ghastly curiosities and much more! The Warehouse of Horrors is destined to be a Halloween rave for the history books.
This year's lineup is stacked with insane talent that will have you getting down and extra weird all night long. Dirtybird, the beloved house music label, will be well represented at the event with J. Phlip, Ardalan and Will Clarke all bringing their incendiary brand of groovy tunes to this deliciously deranged debacle. Rounding out this rowdy roster of artists will be the psychedelic phenom Ott. as well as Big Wild, Luminate Beats, Dirty Looks, Golden Pony and hometown ripper Alex English.
With a lineup like this along with Bang On! NYC's storied history of making exquisite atmospheres, this year's Warehouse of Horrors is exactly where you need to be for Halloween!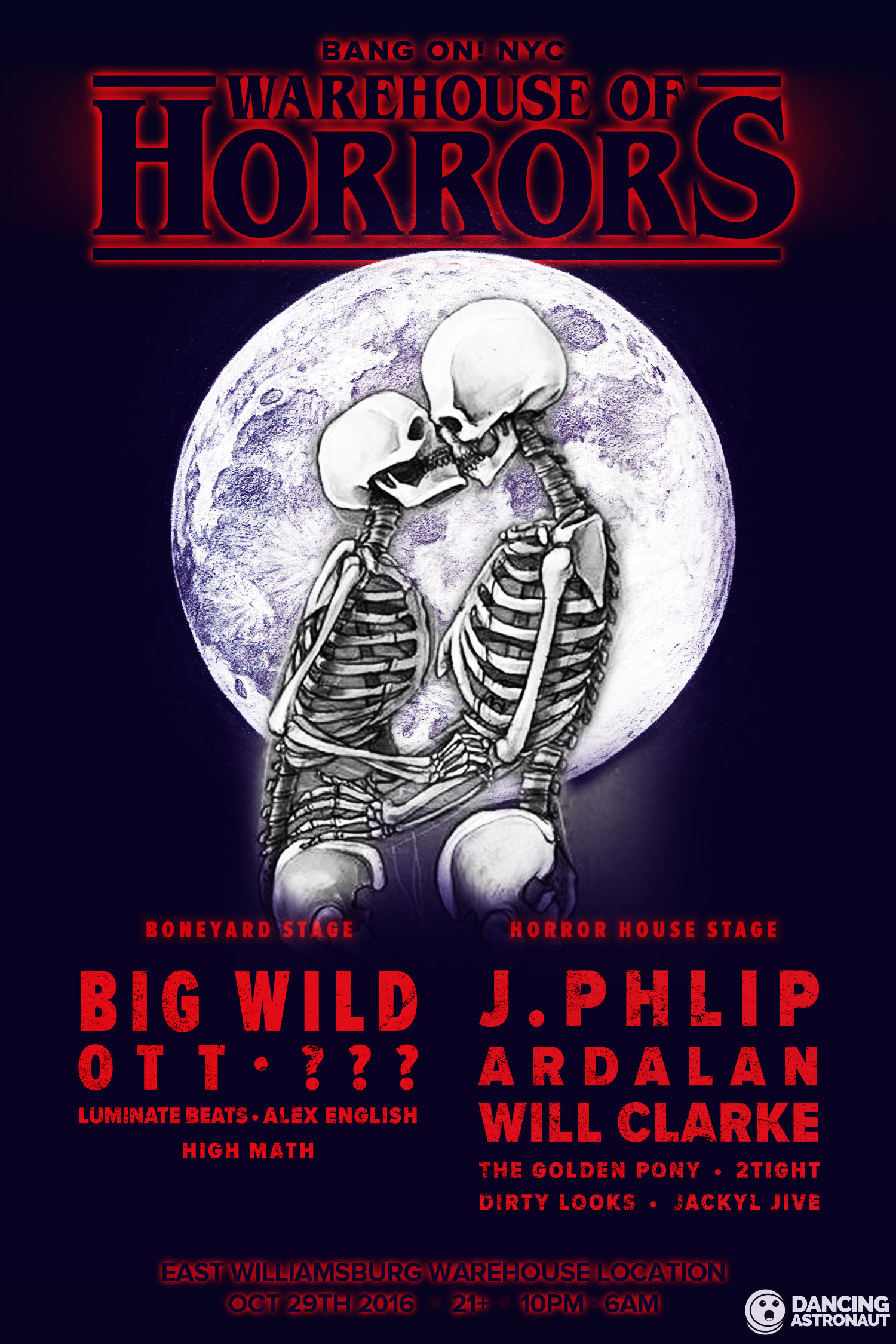 Related Posts
CRSSD Festival will be returning for the third time to San Diego's Waterfront Park on March 5 & 6. Again, CRSSD's lineup demands to hold the festival's reputation for providing some ...
READ MORE